Second to the true meaning of Easter, it also holds a special place in our hearts as the holiday in which we will have a ham. It doesn't matter if it is brunch or dinner, a ham is sure to be on the menu somewhere. I typically will buy a pretty big one because we LOVE leftovers. Especially ham leftovers. Or bacon. Really anything in the pork food category and it's not going to waste around here. I usually stick to seafood and don't eat much meat during the week, but there is something about an Easter ham that is just so addicting. I make the biggest one I can find each year and we eat it for days on end. In fact, I planned to have enough ham for the entire week so we could have thick sliced ham steaks, cute little ham sandwiches with pineapple cream cheese, or even maybe eggs and ham for breakfast with the leftover pieces by the weekend. So…guess what?
We ran out of ham.
Maybe it was the fact that I didn't plan enough since we are now living with my sister and there are more mouths eating the from the ham tray this year. Or maybe it was that in all my planning for the big move last weekend, I completely forgot to go to the store until day before and I was lucky to get anything at all. It was down to one last medium sized beauty in the meat department. There I stood: me and another determined last minute shopper just looking at the same silly ham. It almost felt like we were in a scene from a comedy where at any minute, one of us would pick up the ham like a football and run away with it, doing some crazy victory chant along the way. I think she saw the desperation in my eyes as we tried to read each other's thoughts on the true dedication to this last remaining ham. I am a total pushover, so I scored big time when she walked away. The ham happily climbed into my buggy and off we went to wait in the long checkout lines with all the other last minute shoppers.
Regardless of our great victory, as of Wednesday night, the ham was no more. All that remained, haphazardly wrapped in broken foil, was the ham bone. I needed a back up plan asap to get us through the week. Fortunately, ham bones make some pretty incredible black-eyed pea soup. I just happened to have some extra seasonal veggies like carrots and kale to add a nutritional boost. I literally threw it all in my crockpot before I climbed into bed Wednesday night. Less than 20 minutes and virtually mess free. A messy kitchen and complicated recipe on a work-night?
In the words and tone of Sweet Brown: "Ain't nobody got time for dat."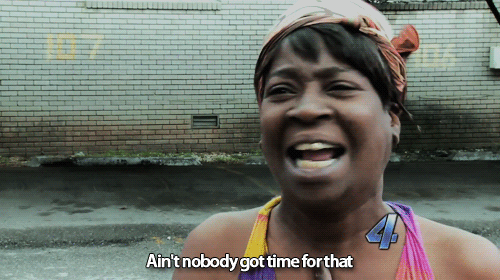 But do I have time for this.
Lesson to remember: don't ever thrown out the ham bone. You could be missing out on something delicious! Plus you are literally using the whole ham without anything going to waste. There are TONS of nutrients in the bone marrow that are great for our bodies like omega-3, calcium, iron, phosphorous, zinc, selenium, magnesium, manganese, and glycine. Bone marrow fat is also primarily monounsaturated, the best kind for our bodies. In fact, native americans used the bones of the animal more than the meat for it's health benefits. You can read more on the benefits of bone marrow here. Less waste and better nutrients can only mean one thing: You. Are. Awesome! :)
Seasonal Nutritional Highlight – Carrots
---
Purple carrots with yellow flesh originated in Afghanistan in the 7th century. They were not the orange carrots we see so commonly today. They spread out into the world and around the 1600's, the orange carrot was bred specifically to honor the Dutch royal House of Orange. They were brought over to America by the Colonists. Carrots are packed full of beta-carotene, which is where we get vitamin A. They are also abundant in alpha carotene and antioxidants that help to prevent eye disease and promote bone health. Carrots can be both savory and sweet in a dish, and are typically used in main courses and also desserts. Carrots are in season from October through April, and the young bunch carrots with tops are usually seen more commonly in spring, as the rainbow carrots presented in this recipe. Interesting fact: baby carrots are actually carrots shaved down to a become a little carrot from a variety grown especially for this purpose. Almost 25% of carrots from California are shaved down to become a baby carrot. Carrots do tend to find themselves on the dirty dozen list often due to their great ability to absorb heavy metals while in the ground. In fact, they are sometimes grown as a throw away crop to help clean up contaminated fields. Make sure to buy organic varieties as often as possible.
What do you do with leftover Easter ham?
Leftover Ham Bone and Black Eyed Pea Soup
Perfect way to use the whole ham and get tons of nutrients!
Total Time
8
hours
10
minutes
Ingredients
1

leftover ham bone

small amount of meat attached preferable

5

cans organic black eyed peas

drained and rinsed

1

spring onion

chopped

4

cloves

garlic

minced

2

cups

carrots

diced

2

large handfuls baby kale or other seasonal green

2

tbsp

red miso paste

1

tbsp

pink salt

1

tsp

coriander

6

cups

water

divided

oil for saute'
Instructions
Place ham bone in a large crock pot.

Put kale and carrots around the bone and top with black eyed peas.

On medium high heat, sauté onion and garlic until tender, about 3-4 minutes. Add miso paste and 1 cup water. Mix until dissolved.

Pour over black eyed peas and add 4-5 cups water, or enough water to fill to top of beans.

Let cook for 8-10 hours on low heat.

Serve warm over rice and top with fresh cracked pepper.